Tuesday, February 7, 2023
9:00 am to 12 noon
(aft possible extension)

Dutchess County
Golden Eagles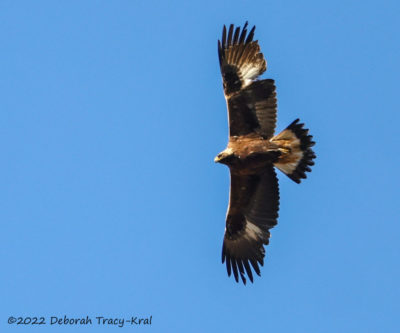 Join us on a birding road trip with several stops in Dutchess County with a focus on finding and viewing overwintering Golden Eagles as well as other raptors and winter birds.
Golden Eagles are regular winter visitors to the open habitats of northern and eastern Dutchess County.
Trip length will depend on our success in finding eagles!  Plan on a minimum of three hours with potential for an optional restaurant lunch stop and extension to mid-afternoon, if we pursue a longer experience.
REGISTRATION REQUIRED USING FORM BELOW or by calling our office, 914-666-6503, to let us know names of participants, how many seats you are offering in your vehicle AND/OR whether you are seeking carpooling. Solo drivers are not possible on this trip; we will require a minimum of three people per car.

Registered trip participants will meet 9:00 am at the McDonald's at 3078 NY-22, Dover Plains, New York [Google Map link] where cars may be left during our field trips.  Some carpooling from Westchester locations will likely also be possible but not guaranteed.
No walk-ins or solo drivers for this trip, please.
* * * We will be limiting the number of cars for a safe and enjoyable experience.
* * * Plan how you will join with others in carpooling
* * * Let us know how many seats you will share in your car
* * * AND/OR if you are open to riding with others.
* * * Masks are encouraged in all vehicles but up to the car consensus.
We will be guided by John Askildsen and Barbara Mansell from Dutchess County's Ralph T. Waterman Bird Club. 
Register online with form below or call our office (914-666-6503) and leave participant name,cell phone, car seats available or car seats needed. If offering seats, note when/where you will meet your passengers.
Other details
Dress for the weather but in layers and bring extra layers so you can adapt to changing weather conditions. Bring water or other beverage and a snack, as you wish. Bring binoculars or let us know in advance if you want to borrow one or more from SMRA to use during this field trip. We will have multiple spotting scopes available to share any longer distance views with participants.