2022 Members Best Program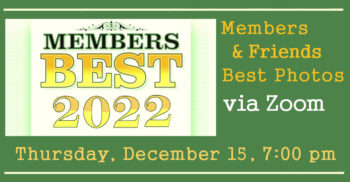 Best Photos Program
Thursday, December 15, 7:00 pm
Via Zoom
Join us on Zoom as members and friends of Saw Mill River Audubon share their favorite photos of birds, other wildlife and habitats.
Want to be part of this program?
Let us know if you would like to share 2-5 of your best photographs at this online event.
Deadline Monday, December 12, 2022 to submit photos.

We invite you to submit photos for us to display during the program.
Photos can be birds or other wildlife and are not limited to New York species but are limited to photos taken in the past year. Habitat views also welcome. (Wildlife includes all non-domesticated animals including birds, mammals, fish, reptiles and amphibians as well as invertebrate animals like insects, spiders and more!)
Let us know subject, date and place with last two being generalized as needed, i.e. just a month date or just a county or state place.

You can send up to five photos using the form below.
We will notify photographers about our program line up by Tuesday, December 13, 2022, if not before.
How we will do the program

We will review all the photos submitted and let you know by Tuesday, December 13 if your photos will be included in the program, if not before.
We will queue up all the photos on our end of things and let you know the order in advance.
As we show the photos, we will give photographers the opportunity to talk about their photos:
We ask you to have ready a couple of sentences to say about each of your photos being shown: why it is one of your favorites, and/or something about the subject and/or setting and/or the way you got the picture.
On Zoom, you can unmute to speak but  you don't need to be on camera, unless you wish.
OR we could also read your words for you when your pictures are shown, if you wish.