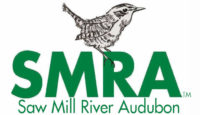 Our 2022 Quilt is entitled "Birds At The Feeder."  This 47"x 63" lap quilt, pieced by Patricia Loquet and machine quilted by Missouri Star Quilt Company, has been made in a twist and turn pattern.
Charming northeast birds, feeders and bird houses populate the quilt, and the quilting stitches are all plump little birds. Guaranteed to keep you warm in winter with thoughts of spring.
Don't miss your opportunity to purchase raffle tickets for this beautiful quilt and help support our local conservation work!
Raffle tickets are $10/each or three for $25.  All proceeds benefit Saw Mill River Audubon.
Purchase raffle tickets online with the form below.
Drawing will be held at our Annual Dinner on Friday, September 9, 2022 at Crabtree's Kittle House in Chappaqua. Details to follow.

You need not be present to win.
FORM BELOW IS NOW INACTIVE
Use arrows to move left or right through images or bottom dots.
something to consider
Saw Mill River Audubon is a local, independent 501(c)3 not-for-profit organization led by a volunteer board of directors. We are not supported financially by National Audubon or Audubon New York although we do receive small annual stipends from both organizations based on our shared mission.
Your quilt raffle ticket purchase, chapter membership, bird seed purchases, field trip donations, and other gifts to Saw Mill River Audubon are all highly valued. Please help us sustain our local work in environmental education, sanctuary stewardship and advocacy so that we may continue to connect people with nature.
Saw Mill River Audubon is registered as a not-for-profit 501(c)3 organization with the State of New York.