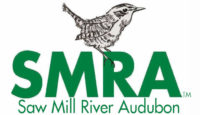 Our 2023 Quilt is entitled "Eagle Sighting."  This 50" x 65" quilt was created by Saw Mill River Audubon Board Member Jean Sparacin. Be sure to see close-up images below of the beautiful fabric choices and stitching.
The raffle drawing winner of our 2023 Bird Quilt will be revealed on Sunday, April 2 at our annual dinner.
Don't miss your opportunity to purchase raffle tickets for this one-of-a-kind beautiful quilt and also help support our local conservation work!
Raffle tickets are $10/each or three for $25.  All proceeds benefit Saw Mill River Audubon.
Purchase raffle tickets online with the form below.
Drawing will be held at our Community Potluck Dinner on Sunday, April 2, 2023. [More about our Spring Potluck.] You do not need to be present at our dinner to win (but we hope you will be.)

Or use our secure payment form below with MasterCard or Visa
Online Quilt Sales Now Closed!
(we will be selling tickets at dinner)

Use arrows to move left or right through images or bottom dots.
something to consider
Saw Mill River Audubon is a local, independent 501(c)3 not-for-profit organization led by a volunteer board of directors. We are not supported financially by National Audubon or Audubon New York, although we do receive small annual stipends from both organizations based on our shared mission.
Your quilt raffle ticket purchase, chapter membership, bird seed purchases, field trip donations, and other gifts to Saw Mill River Audubon are all highly valued. Please help us sustain our local work in environmental education, sanctuary stewardship and advocacy so that we may continue to connect people with nature.
Saw Mill River Audubon is registered as a not-for-profit 501(c)3 organization with the State of New York.