2023 Annual Dinner
Sunday, April 2, 2023
5:00 pm to 8:00 pm
The Center at Mariandale, Ossining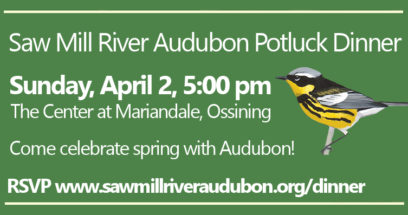 5:00 pm Casual Reception
5:30 pm Arrival deadline for food & beverages
5:45 pm Buffet Line Open
6:15 pm Program Begins
(see details below)

All are invited to our 2023 Annual Dinner! Feel comfortable to come alone or with family and friends with our open seating and welcoming tables of eight. Our potluck buffet line will open promptly at 5:45 pm with our dinner program starting at 6:15 pm.

 COVID Safety Notes
For all SMRA group activities vaccinations are required to help protect everyone. Consider doing an at-home COVID test within 24 hours of this event. (As always, if you don't feel well or have any symptoms, please stay home.)

2023 Dinner Program
Our 2022 Larry Light Youth Scholarship student's short presentation,
Our featured program with images and stories from our 2022 South Africa trip

,

Our raffle drawing for our 2023 Bird Quilt, (see quilt and buy raffle tickets online), and then

Our usual quick finale with images from SMRA projects and activities. Will you be in our pictures?
~ ~ ~ ~ ~ ~ ~
More about Our Annual Dinners
We alternate annually between a community potluck dinner and a restaurant-hosted dinner.

Our last annual dinner was in September 2022 at Crabtree's Kittle House after a 2-1/2 year pandemic delay.


We are holding this community potluck in April 2023 to get us back on our April annual dinner cycle and, most of all, to be able to welcome more of our members and friends.
~ ~ ~ ~ ~ ~ ~