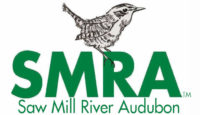 We welcome your donation to support our local conservation and education work.
For a tribute gift in honor of someone special or a memorial gift in memory of a loved one or colleague, you may prefer to use our recognition donation form to include a special message for family or friends.

See below for details about our secure online transactions using MasterCard or Visa.
You may also send a donation via PayPal which also accepts AMEX and Discover
or you may send a payment via Zelle to smrapay@gmail.com
After using the above form to request a secure payment, your payment will be processed by our secure credit card processor, Authorize.Net. Saw Mill River Audubon is a certified merchant at Authorize.Net. You can check our online credentials by clicking on the Authorize.Net symbol above.
We welcome your online payments using MasterCard or Visa.
Privacy
We do not share the personal information of our chapter members, donors or participants with any other organization, company, individuals or entity. This includes names, addresses, daytime phone numbers, email addresses, and payment information. Here is more about our privacy policy and terms of use.
Saw Mill River Audubon is registered as a not-for-profit 501(c)3 organization with the State of New York.