Cameron-Murtfeldt Sanctuary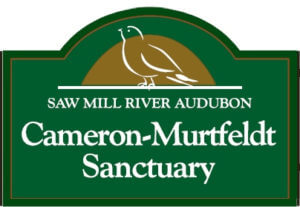 Cameron-Murtfeldt Sanctuary is one of Saw Mill River Audubon's smallest sanctuaries consisting of two wetland parcels on either side of Kipp Street at its intersection with Douglas Road in Chappaqua.
Cameron-Murtfeldt Sanctuary was first protected by the New Castle Land Conservancy. Six acres lying on either side of Kipp Street was given to the New Castle Land Conservancy in 1971 by Mrs. Marion Murtfeldt and the Cameron family as a memorial to Mrs. Murtfeldt's son. When the New Castle Land Conservancy merged with Saw Mill River Audubon in 1975, ownership of the property was transferred. The Weddle family donated an additional 1.3 acres in 1975.
The short walking loop was improved and plant signs added as part of a Girl Scout Gold Award project by Sarah McGrath in 2003.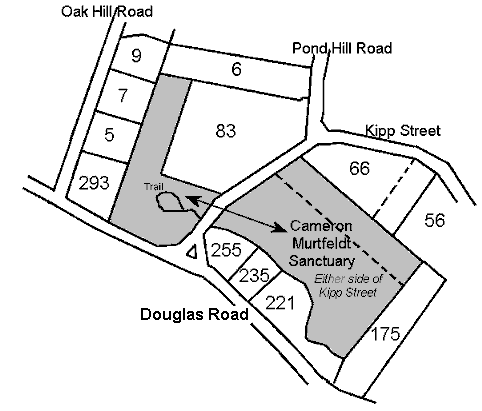 Trees found in Cameron-Murtfeldt Sanctuary include Red maple, American beech, Tulip tree, Slippery elm, Green ash, White oak, and Red oak. Shrubs in the sanctuary include Highbush blueberry, Spicebush, Winterberry, and various Viburnums.
Seasonal plants in the sanctuary include Cinnamon fern, Sensitive fern, Skunk cabbage, and Jack-in-the-Pulpit. There is a small stream to your left as you enter the trail. Near the stream is a natural bench formed by a fallen tree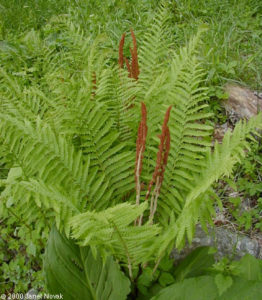 We are committed to protecting and restoring the native habitats in our sanctuaries for the benefit of birds, other wildlife and people.
Saw Mill River Audubon sanctuaries are maintained by a part-time caretaker and by volunteers on trail maintenance days. We are also grateful for the continuing oversight of our sanctuary neighbors to let us know about sanctuary concerns and observations. Volunteer Trail Walkers also monitor our sanctuaries.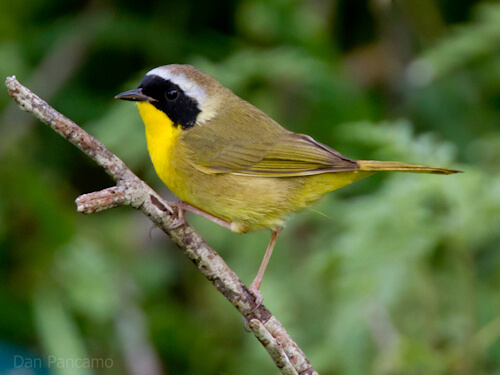 Common Yellowthroats nest at Cameron-Murtfeldt Sanctuary because there is a thick and tangled understory of shrubs in the wetland protected by this sanctuary.
A very small sanctuary like Cameron-Murtfeldt may not appear, at first, to have a high value for birds, other wildlife or people but its value is magnified because it is linked to adjoining properties and nearby, larger open spaces.
Cameron-Murtfeldt Sanctuary's protected wetland collects and absorbs stormwater flow which helps to prevent flooding. Many of the residential properties in the same neighborhood are actually also within wetland area or wetland buffers making this sanctuary all the more important.
Another benefit? Even a small sanctuary like Cameron-Murtfeldt is a neighborhood benefit offering a place to stroll, sit and relax in nature.