Pruyn Sanctuary is the headquarters of Saw Mill River Audubon. [Pruyn is pronounced Prine.] Pruyn Sanctuary is located in the Town of New Castle, New York on Route 133-Millwood Road, three miles east of Millwood.
Pruyn Sanctuary protects 92-acres of open space and offers over two-miles of hiking trails through diverse habitats including a system of boardwalks through Gedney Swamp. (There are no restrooms or public facilities in this sanctuary.)

Gedney Swamp is a 57-acre state-designated wetland protected by Pruyn Sanctuary. Pruyn Sanctuary drains to the New Croton Reservoir. As dedicated open space, Pruyn Sanctuary protects the drinking water quality of the New York City watershed.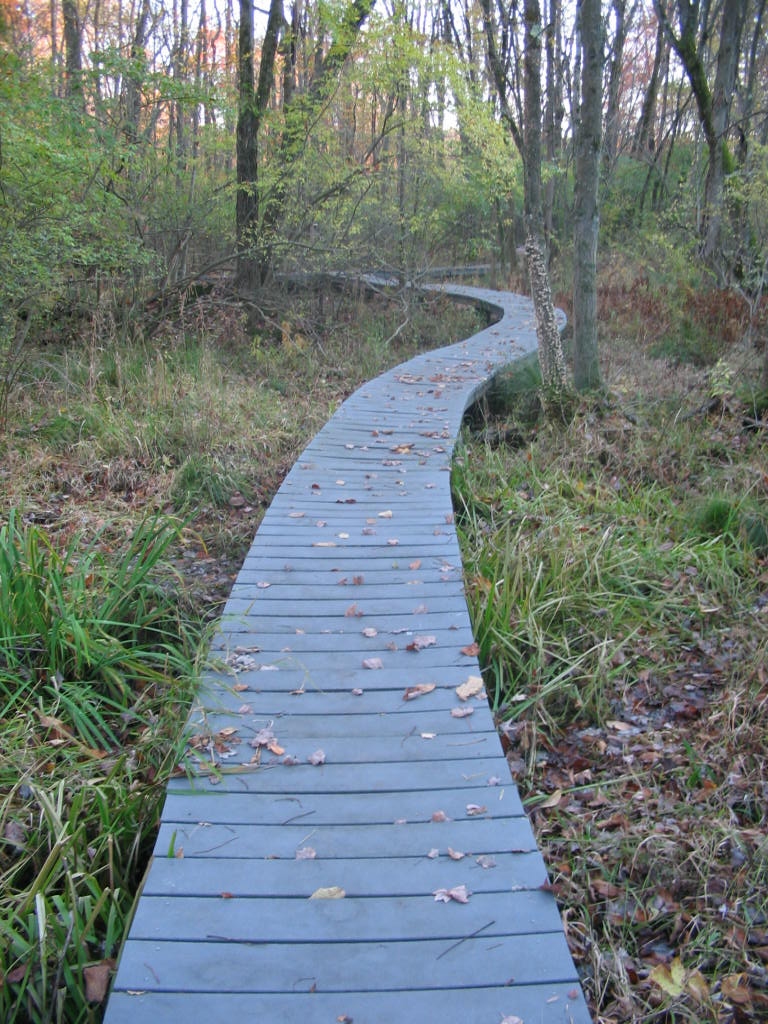 One of the most popular sanctuary features is a small butterfly and hummingbird garden first established in 2001. In 2018, a demonstration meadow garden featuring plants attractive for birds and other wildlife was added. [Learn more about the Pruyn gardens.] The best time to view butterflies and hummingbirds is in the middle of warm, sunny summer days.
Pruyn Sanctuary was established through the generosity of Dr. F. Morgan and Agnes Pruyn [pronounced Prine].
click to enlarge with captions
Please contact our office in advance if you want to bring a group of more than 6 people and/or three cars to any of our sanctuaries. Parking is very limited and there are other groups regularly scheduled to meet at our sanctuaries.
With advance notice, we may be able to provide your group with a guided walk.
Even if your group wishes to visit without an Audubon guide, always contact us in advance to let us know when you will be visiting and the estimated number of vehicles and visitors in your group. Thank you.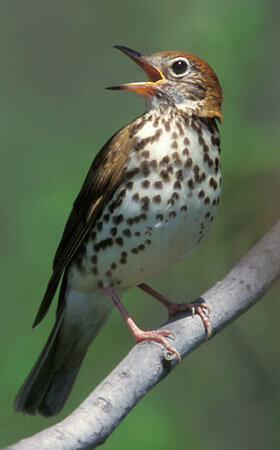 Wood thrush return each spring to Pruyn Sanctuary from their wintering grounds in lowland tropical forests in Central America. While they are with us, wood thrush help to maintain forest health by eating many of the insects that feed on trees and shrubs.
Without understory shrubs and young trees for cover, wood thrush nests will fail because predators will find the nest and eat the eggs or young birds. Excessive deer browsing of forest understory impacts both the survival of wood thrush and the long-term health of our forests.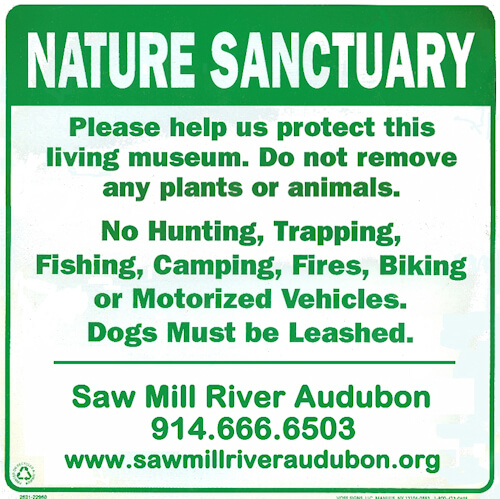 All of our sanctuaries are open to visitors free of charge, seven days a week, sunrise to sunset.
Pruyn Sanctuary's main entrance driveway is chained shut at sunset so please plan your walk carefully. It re-opens by 7:00 am. An alternate trail entrance is at the end of Woodmill Road.
We are grateful for the ongoing help of our sanctuary neighbors and Trail Walker volunteers to watch over our sanctuaries.
Pruyn Sanctuary was first established in 1966 by Agnes Keane and Dr. Fellowes Morgan Pruyn pictured here, long-time residents of Chappaqua, through a gift of 16 acres to Saw Mill River Audubon. Small parcels of two and four acres each were added by the Benedict and Allison families, respectively, from their nearby properties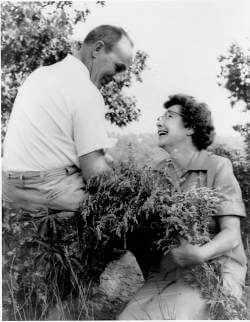 In 1978, Dr. Pruyn purchased 31 acres of the valley and donated them to Saw Mill River Audubon. Agnes Pruyn passed away in April, 1975 and Morgan Pruyn continued to maintain and improve their land adjoining the sanctuary and take an active role in supporting Saw Mill River Audubon until his death in May, 1988.
From the Pruyns, Saw Mill River Audubon received a bequest of the remaining acreage of their property and their residence, which now houses the office of Saw Mill River Audubon. Pruyn Sanctuary, originally Gedney Brook Sanctuary, was renamed in honor of the Pruyns in April 1990.
An additional 14 acres, the Crystal Spring parcel, was added to the sanctuary in 1997 as a donation from Alok Aggarwal, a local developer. Nestlé was a previous owner of this property during the 60s when spring water was piped and bottled from this area.