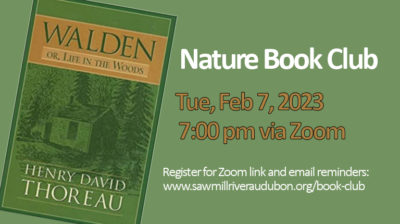 Come gather with our Nature Book Club as we discuss books of interest in the world of science and natural history.
Our Book Club typically meets on Tuesday nights at 7:00 pm, once every two months or so.  You are invited!
Please note that we are meeting by Zoom again for the February 2023 Book Club.

To receive the Zoom link by email and get reminders of future Book Club, use the registration form below.

past book club selections

A Most Remarkable Creature: The Hidden Life of the World's Smartest Birds of Prey by Jonathan Meiburg
Birds of the Shore: Observing the Natural Life of the Atlantic Coast  by Jennifer Ackerman
A World on the Wing: The Global Odyssey of Migratory Birds by Scott Weidensaul
The Genius of Birds by Jennifer Ackerman 
The Invention of Nature: Alexander Humboldt's New World by Andrea Wulf 
Evolution of Beauty by Richard O. Prum 
Birding Without Borders by Noah Strycker 
What the Robin Knows by Jon Young 
Genius of Place: The Life of Frederick Law Olmsted by Justin Martin 
Sixth Extinction by Elizabeth Kolbert 
Essays by John Muir 
Sound of a Wild Snail Eating  by Elisabeth Tova Bailey 
American Eden by Victoria Johnson 
Ice: the Nature, the History, and the Uses of an Astonishing Substance by Mariana Gosnell 
The Feather Thief: Beauty, Obsession, and the Natural History Heist of the Century by Kirk W. Johnson 
A View from Lazy Point by Carl Safina 
Underland, A Deep Time Journey by Robert Macfarlane 
The Moth Snowstorm, Nature and Joy by Michael McCarthy 
Becoming Wild Becoming Wild: How Animal Cultures Raise Families, Create Beauty, and Achieve Peace by Carl Safina 
Seeing Trees: Discover the Extraordinary Secrets of Everyday Trees by Nancy R. Hugo, Photography by Robert Llewellyn

H is for Hawk by Helen Macdonald