The office for Saw Mill River Audubon is located at Pruyn Sanctuary:

275 MIllwood Road
Chappaqua, New York 10514
[Google map link]
Office hours resuming July, 2021, excluding major/school holidays:
M/W/F 11:00 am to 4:00 pm.
Reach out to us by email or phone before visiting our office.
We request that all office visitors wear a mask before entry.
Our office supports the mission of Saw Mill River Audubon by answering phone and email questions about local birds and other wildlife, membership matters, and Audubon events and activities.
Our office also supports the work of our volunteer board of directors.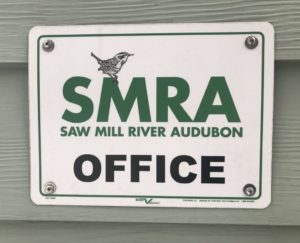 Through summer 2021, we are still offering contact-free pick up of bird seed orders at the office entrance of Pruyn Sanctuary. You may also order in person and pick up seed during our office hours resuming in July. (Note that both contact-free and in-person seed sales are self-loading.)
Visit our seed sale page to see our inventory and prices and order online, letting us know your choice of pickup day.
The Kaye Anderson Library is located in the office. This library offers a selection of bird field guides for locations worldwide. Short-term loans are available for members of Saw Mill River Audubon
Executive Director
Anne Swaim
Office Manager
Ellen Heidelberger
Sanctuaries Caretaker
Danny Ferguson
Educators
Peter Salmonsohn
Patricia Mutolo
SMRA Education Partner
The Rewilding School
Eric Stone, Director