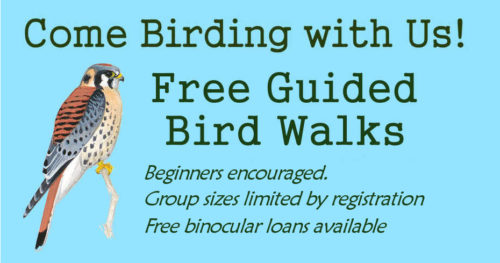 LISTED FURTHER BELOW are our upcoming small group birding walks.

Click on event images below for more information and to register.

Further down the page are our regular weekly walks in Westchester.

When you register for a field trip, we will send you an email with the meeting place and other details and we will also send reminder emails before the trip. If you don't get a confirmation email, FIRST check your spam/trash email folders for an email sent via EventBrite, then email our office.
Special Birding Opportunities

Hook Mountain Hawk Watches

Saturday, September 16, 8:30 am to 4:30 pm
Wednesday, September 20, 8:30 am to 4:30 pm.
Come and leave anytime during listed hours.

NO REGISTRATION NEEDED FOR THESE TRIPS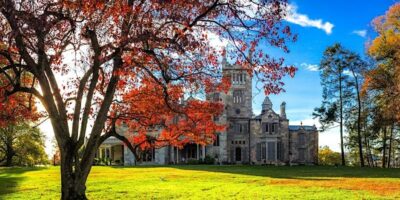 Big Sit & Hawk Watch: Lyndhurst
Wednesday, October 11, 9:00am – 12:00pm
By special partnership with Lyndhurst, join us for a Big Sit & Hawk Watch at Lyndhurst! 

Registration required at this web link: https://www.eventbrite.com/e/682237038347
Come and sit with us as we watch for migrating hawks and eagles and falcons traveling south along the Hudson AND as we tally up as many other bird that we can see and hear from one location by the Hudson River shoreline. We will open to this a much larger crowd than our bird walks.  Bring your own chair!  And binoculars. Or let us know if you'd like to use Audubon binoculars. Rain or shine but may cancel if extreme weather in which case we'll alert registered participants two hours before start time and post the cancellation on our website Google calendar.
Westchester Birding Hotspots

Directions to Hook Mountain Hawk Watch
It is a rigorous 30 minute hike uphill from Rockland Lake State Park's Executive Golf Course parking lot to the summit of Hook Mountain. From the tree line beyond the flagpole, take the yellow-blazed trail uphill for 0.3 miles to the ridge line overlooking the Hudson.  Turn right, south, on the blue-blazed Long Path and follow it for 0.35 miles to the summit where there are 360-degree views of the Hudson Valley and hawk watchers!  Another yellow blaze trail comes up from roadside parking on Route 9W, a shorter but muct steeper climb.
 
Hiking poles likely very helpful and good footwear necessary for all.  Bring plenty of water and a hat and dress in layers.  Binocular loans not possible on this field trip.
All details about Hook Mountain Hawk Watch including hawk counts are on Trudy Battaly's website.
Email SMRA office with any other questions.