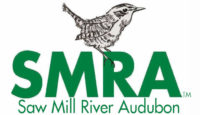 Support Saw Mill River Audubon with your bird seed purchase!
Use the below form to order and pay for your seed,
Or use the form below to order your seed and then pay by check or cash when you pick up your seed.
Please be sure to tell us the day and time window you'd like for contact-free seed pick-up.
Please wait for our email confirming your pick up plans.
(See below for details about our secure online transactions using MasterCard or Visa.)
For reference, you can also view or download our seed sale flyer.
Order by Friday, September 23 to pick up on our first staffed pickup date on Saturday, September 24, 9:30 am to 12:30 pm.

OR choose self-loading pickup Mon/Wed/Fri, 11am to 4pm, parking by seed shed and letting our office know you are here. OR pick another day/time for self-loading pick up, as needed.

All bird seed orders are at Pruyn Audubon Sanctuary, office/garden entrance, 275 Millwood Road, Chappaqua. Use this form to order and choose date of pickup OR call or email our office at 914-666-6503 or office@sawmillriveraudubon.org 
After using the above form to request a secure payment, your payment will be processed securely through Authorize.Net. Saw Mill River Audubon is a certified merchant at Authorize.Net. You can check our online credentials by clicking on the Authorize.Net symbol above.
We welcome your online payments using MasterCard or Visa.
We do not share the personal information of our chapter members, donors or participants with any other organization, company, individuals or entity. This includes names, addresses, daytime phone numbers, email addresses, and payment information.
Saw Mill River Audubon is registered as a not-for-profit 501(c)3 organization with the State of New York.