Listed below are special in-person programs and upcoming Zoom program. If registration is required, click on image or text link for more information and to make your reservation.

In-Person Special Programs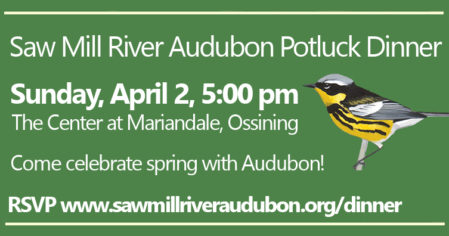 2023 Annual Dinner: Community Potluck
Sunday, April 2, 5:00 pm
The Center at Mariandale, Ossining

You are invited! On alternate years, our annual dinner is a community potluck to include more of our members and friends. Feel comfortable to come alone or with friends or family with our open seating at tables of 8 and our friendly Audubon community.  We'll have an engaging dinner program including pictures and stories from our November 2022 South Africa trip! Space will be limited so be sure to RSVP soon. Make dinner reservations here.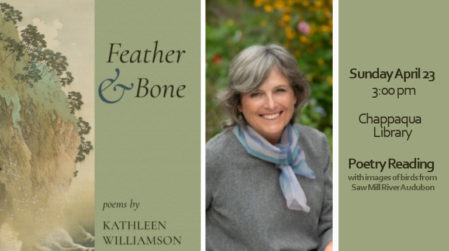 Feather and Bone: Poetry and Images
Sunday, April 23, 3:00 pm
Chappaqua Library

Join Saw Mill River Audubon and local poet Kathleen Williamson for this special program in honor of Poetry Month. Kathleen will read from her recently published book, Feather and Bone, interspersed with bird images and words from Anne Swaim, Saw Mill River Audubon. Come experience Kathleen's poetry and images of the birds that inspired her.  NO REGISTRATION NEEDED. Open to all. No recording will be made.
Click on any event image below to get the Zoom link and email reminder. After you register, look for a confirmation email via EventBrite with the Zoom link.  If you do not receive a confirmation from EventBrite, check your spam/trash folders and, as needed, email our office for the Zoom link. You will also receive at least one reminder email before the program with the Zoom link.
Bird–window strikes may kill as many as a billion birds in the U.S. each year with half of these occurring at homes or low-rise buildings.
Read More »
Co-sponsored Audubon Programs