celebrating local bird photographers!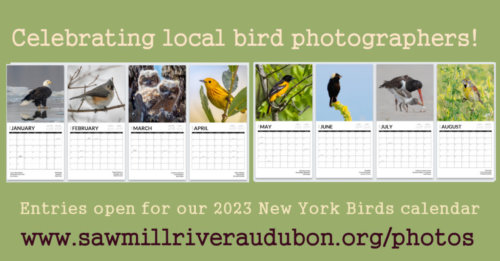 Saw Mill River Audubon celebrates our regional bird photographers by creating an annual calendar of New York birds.
Our 2021 and 2022 calendars had some phenomenal photographs. We are now seeking exceptional photographs for our 2023 "Birds of New York" calendar.
Like last year, there is an entry fee of $10/photo which supports the local conservation and education work of Saw Mill River Audubon, as does the sale of the calendars. Thank you for that support. If one of your photos is selected, we will send you a finished calendar at no charge.

We are looking for a variety of bird species photographed in all seasons, including winter. Please send your photos of raptors, warblers, thrushes, shorebirds, waterfowl, and songbirds of all kinds photographed in the Hudson Valley region or elsewhere in New York state. 
Multiple submissions are encouraged to a maximum for five per person. 

Submissions are open until September 9, 2022.
We will contact you by September 22 to let you know if your photo has been selected for the 2023 calendar.