Tuesday, March 19
6:30 pm

Woodcock Walk at Croton Point
[Google map link to meeting spot]

Please be sure to use the form below to register for this trip so we know to expect you and can update you on any itinerary changes.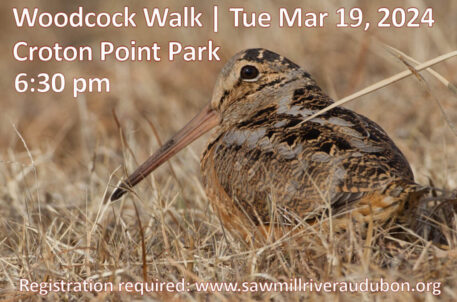 We will meet 6:30 pm at the ballfield parking at Croton Point Park.  [Google Map link]
There will then be a short and level terrain walk from there to the edge of landfill grassland hill to listen and look for American Woodcocks doing their spring courtship flights.
This field trip is good for adults and children 8 years and older who are okay standing quietly and listening.
Do bring a flashlight — we'll have others in use to help with the walking — but, if you so, use it carefully and as directed.
Dress for the weather forecast.  Bring binoculars if you have them. We will not have loaner binoculars for this walk.
This field trip may be rescheduled or cancelled by a forecast of steady rain, heavy snow, winds above 20mph or lightning since we will be in an exposed location. We may still continue with light rain, snow or wind.
We will contact all trip participants at least two hours before the meeting time if we reschedule or cancel.
If still uncertain, check our web site calendar to see if any trip status change .
** If any questions, contact our office at office@sawmillriveraudubon.org or 914-666-6503.