Saturday, June 4, 2022
2:00 pm
Croton Point Park
Live Raptor Program
with Falconer James Eyring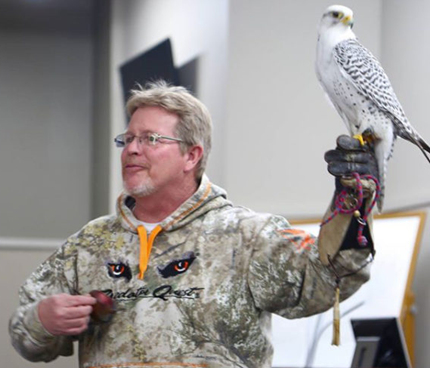 Falconer James Eyring never fails to thrill, entertain and engage audiences when he visits with his birds of prey.  James will show each of his birds up close to audience members with plenty of opportunities for photographs. There will also be a live flight demonstration, weather conditions permitting. Read more further below about James and his birds.
All are invited to enjoy this special event
open to the public at Croton Point Park! Free for everyone.
Suggested donation of $5/adult
collected at the door or online here with RSVP.
** Note that Croton Point Park charges
admission/parking fee per vehicle.
See Croton Point Park charges here.
FOLLOW SIGNS IN CROTON POINT
TO EVENT LOCATION
More Event Details
 This program will be held on the lawn in front of the cabins in the Teller's Point area of Croton Point Park.
Here is a Google map link to the program location. The road to drive past the RV campground will be opened an hour before program start.
Parking will be on the designated lawn area. 
There will be limited seating. We suggest you bring your own lawn chair(s).
Croton Point Park charges admission/parking fee per vehicle. See fee here.
Follow signs in Croton Point Park to program location
NO NEED TO RSVP AS OF SATURDAY JUNE 4.  JUST SHOW UP!
More about James Eyring and this program
This program will include the natural history of falconry and raptors including their adaptations. Programs held outdoors, like this one, will include flight demonstrations, if conditions permit.  James will fly his hawks and falcons to the lure and glove. Some of the birds that participate in the program are: Gyr/Saker Falcon – "Elvis" (pictured above), Harris Hawk – "Saphera," Barn Owl – "Ellie," and Screech Owl – "Little Moon." The program is one hour in length with time for questions and answers at the end.
James Eyring was Assistant Director of the Pace University Environmental Center for 40 years and is an Environmental Educator, and Master Falconer focused on the natural history of raptors, or birds of prey. James was raised in North Salem and now lives in Carmel. As a naturalist and life-long wildlife enthusiast, James enjoys falconry, fishing, kayaking, and hiking.