Sterling Forest State Park Birding
Sunday, June 18, 6:30 am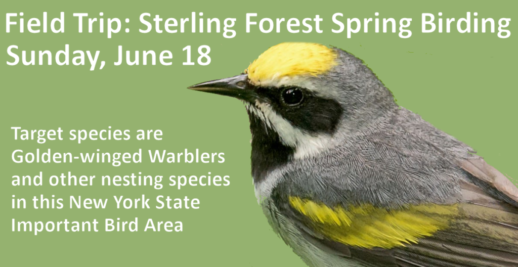 Meet us 6:30 am at the visitors parking for Sterling Forest State Park. [Google map link.]  We expect to be birding at least three hours. Rain or shine.
We will be birding several locations in Sterling Forest State Park including along Long Meadow Road and Ironwood Road and the edges of Blue Lake and Little Sterling Lake.  We will likely need to reduce the number of vehicles leaving and returning from this first meeting spot so be prepared either to offer seats to others or to ride with others.  Minimum of two people per vehicle, please.
No registration needed for this field trip.
Extensive walking on uneven and likely wet terrain so plan your footwear accordingly. Bring water. Dress in layers. Best for adults and youth 10 and up. Rain or shine. Only severe weather cancels so check our website calendar before traveling if any question.